January 13, 2022
It's awards nomination season once again in the SFF world, so I'm breaking the long silence on this site (not necessarily intentional so much as, well, have you seen the world lately?) to make a text post of my awards eligibility.
My podcast, Tales from the Trunk, is eligible for the Best Fancast category in the Hugos and the Best Audio Original - Nonfiction category in r/Fantasy's Stabby Awards. (It's also eligible for various other podcast awards probably, but those are basically the only podcast awards in the genre space specifically.)
I appreciate your consideration, and I'd be honored to have a space on your ballots.
---
March 01, 2019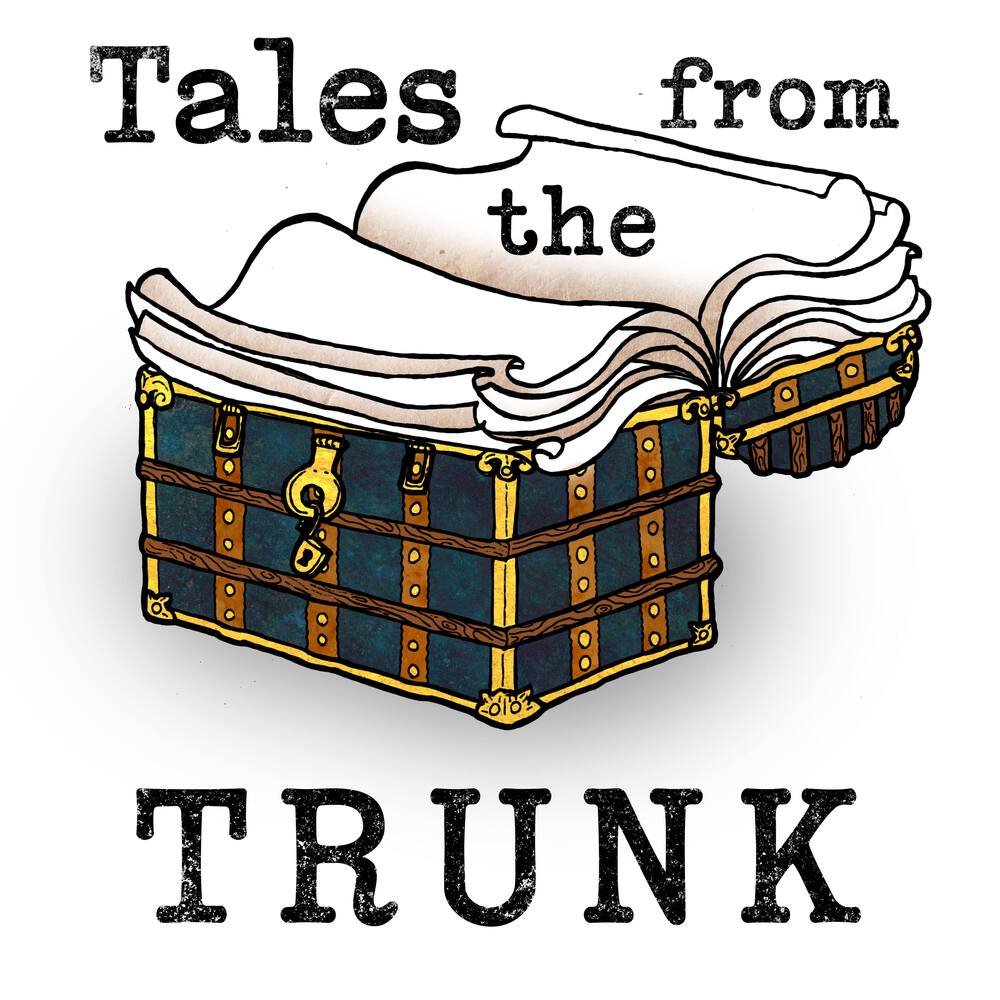 My podcast, Tales from the Trunk: Reading the stories that didn't make it, is launching its first full episode on Friday, March 15th, 2019, and to get listeners ready, a trailer episode has gone live today.
Tales from the Trunk is a show about the times when the fiction that we've written just doesn't quite hit the mark for whatever reason. Regular episodes feature a reading from and interview with a guest spec-fic author.
Tales from the Trunk releases monthly on the third Friday of the month.
You can support the show on Patreon.
---
August 16, 2018
Worldcon 76, the 76th World Science Fiction Convention (gasp!), is happening right now in San Jose, CA, and I will be there Friday evening, Saturday, and Sunday.
If you have a copy of Skies of Wonder with you, I will happily sign it (and I have it on good authority that the other contributors who will be there will also do so). If you don't have a copy but you want one, there will be a limited number in the SFWA Book Depot. I am also likely to have some bookmarks and badge ribbons, and I'll happily give you one!
Some notes on the care and feeding of a Hilary:
I'm not great with faces/names. If we know each other from somewhere, please tell me where!
I'm an introvert, but that doesn't mean I don't want to talk to you.
I'll have business cards with me. If you have a card, too, I'd love to get one; I'll have a better chance of remembering I met you that way.
As far as finding me goes, I'll be carrying a black messenger bag with a Hufflepuff crest on it. That's about all I know, but I am pretty tall, so that may help as well.
---
June 05, 2018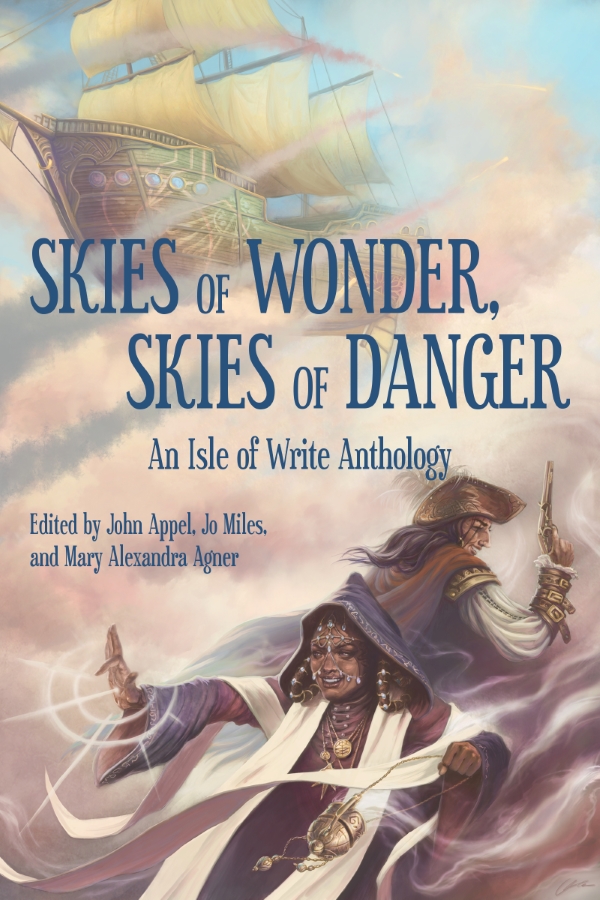 Elaine just wants to get some formal training as a mage and get a better job, but everything goes wrong during a routine job when the airship she's on is highjacked by pirates.
Skies of Wonder is now available for pre-order on the following platforms:
Print on Demand - Coming soon!
This page will be updated as the remaining pre-order links become available.
---
May 15, 2018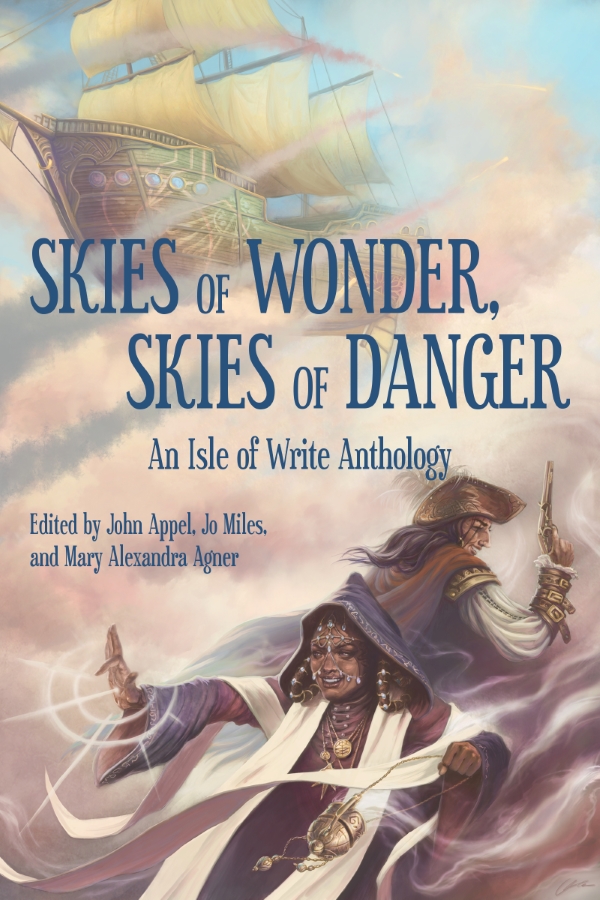 Elaine just wants to get some formal training as a mage and get a better job, but everything goes wrong during a routine job when the airship she's on is highjacked by pirates.
If you follow my Twitter, you may already know, but I have a new story forthcoming in Skies of Wonder, Skies of Danger: Stories of Airships, Pirates, and Wizards, which is expected to release on June 14th as an ebook on all major platforms and as a print-on-demand paperback.
Skies of Wonder contains 13 stories of airships, pirates, and wizards (oh my!), including my story, "A Step Out Into the Blue."
Watch this space and my twitter for more details as the release date approaches!
---
December 18, 2017
It's the middle of December, and I don't know if I'm going to get anything new out the door or get anything that's out back in time to send it out again, so I guess this is as good a time as any for a year-in-review post.
2017 in submissions:
47 story submissions sent (down from 54 in 2016)
1 sale (!!!)
37 form rejections (down from 39 in 2016)
9 personal rejections (down from 14 in 2016)
1 story published
1 new story in circulation (and one more that'd been sitting out pending a heavy revision)
I was hoping to meet my average of one submission a week again this year, but missing that mark by 5 isn't bad by any stretch, and this is still my second best year for raw submission numbers (and absolute best year for paid sales) since I started this hustle back in 2006, and that ain't bad.
Considering how rough 2017 was in general, I'm counting everything as a victory, and there are still a few weeks left in the year.
As far as writing goes, I didn't end up producing that much new stuff this year that actually went out into the world. One new story, and one more that hadn't been on sub since its first outing in 2016, where it came back with a very nice, helpful personal rejection that I didn't know at the time how to act on. In addition to those stories, there were a couple more pieces that are finishing out the year at various states of drafting, so hopefully I'll get some of those out the door early in 2018. Maybe.
As far as surprises for the year go, I'm a little shocked that November didn't come in as my lowest-submission month, given that I was traveling for half the month. In fact, November came in second, with 6 submissions, while August led the way with 8 subs. However, the biggest surprise for me was my sale, which came in in March. Obviously, we always hope that the things we write and send out will sell, but the wording of my acceptance letter started out so similarly to all the rejections I've gotten (225 lifetime rejections as of this writing), that I had to go back and re-read the thing a couple times for it to get through.
My goal, again, for 2018 is to hit 52 submissions for the year, which means I'll have to put some more things in circulation, so my other 2018 goal is to get up to 10 stories into the rotation. Wish me luck.
---
December 18, 2017
Hello! Everyone is doing their Awards Eligibility Post™ right now, so I guess I'll join in, yeah?
Short Stories:
"The Air Gap," published in the June issue of LampLight Magazine
And that's it. I like my one credit this year a lot, and I'd be staggered if any of y'all put it on your ballot. If you read it and liked it, regardless of any awards consideration, thank you.
---
November 01, 2017
It's NaNoWriMo! I'm not participating, because I know full well that I'm doing too many things this month, and trying to write fifty thousand words on top of all that is unrealistic.
But that doesn't mean that you can't. Because you can! You can do the thing! And if you, like me, would like to over-complicate an already difficult endeavor, maybe you want to have a way to update your wordcount from the command line. (I mean, if you're trying to keep yourself from getting distracted while you're trying to do your daily 1800-ish words, then opening a browser to update your word count is likely to lead you off-track. It does for me, anyway.)
So, for you, you wonderful dork, a Gist. May it serve you well.
In case you're wondering how I use this script, I usually do my NaNoWriMo projects in plain text, writing in chunks every day, usually named something like "chunk_20171101.txt," with all those chunks in a project folder. Since my main writing machine uses Xmonad as its window manager, I can just program a custom keyboard shortcut to invoke this script whenever I want.
So, with my blessing, take this terrible bit of bodged-together code, and if you find it useful, I don't know, tweet at me or something.
---
October 13, 2017
As some folks may have guessed from my semi-recent blog post, I've got a new print up in my Etsy shop!
(Honestly, I could've posted this print a month ago, but life just kept happening, as it often does. So it's here now, and that's the important part.)
Anyhow, if you want some Cthulhu postcards, or other postcards or prints, I'm not picky, head on over there.
---
October 12, 2017
Some months ago, I made the decision to migrate my website (this very thing that you're reading right now) to Github Pages. This was, in large part, because I was bored and a bit fed up with my existing site.
I coded the first iteration of HilaryBisenieks.com in 2009, writing it all in Notepad, which is Not A Great Way. But I was young, then, and not indoctrinated into the Church of Vim (don't @ me). It was small and kinda lousy, with a table-based layout. If I wanted to update a menu entry, I had to change it in every single page.
Eventually, I re-wrote the whole structure of the site, using PHP to make it somewhat modular. I'd already ditched the tables in favor of divs, but now if I wanted to update a menu item, it was a matter of changing and re-uploading only a single file. I was basically in just the right place for Jekyll, my templates being a series of include statements, pulling in all the little snippets of code as desired for my blog widgets and sidebar items.
That worked. Basically. But I had occasional security issues: random extra pages getting dropped onto my FTP server, seemingly at random, that got the site flagged for malware on several occasions. Which is Not Great.
And I wanted to redesign the thing anyway. I just didn't really have the motivation or the tools.
Then Fireside Fiction redid their site and talked about it. That lit a fire under my ass. At that point, I checked and saw that my paid hosting through GoDaddy, who I kind of despise (but signed on with back in the day because, again, young and ignorant), would be coming up for renewal in about 7 months.
I had a time-frame, and thanks to Pablo's posts, I had an idea of what tools I could use. From there, it just became a matter of doing the work. So of course I left large portions un-done until the very last minute. (In fact, there are still some things missing that had been present on my old site.)
So here we are.
If you see something that seems off, you can email me about it at webmaster [at] hilarybisenieks [dot] com or just make a pull request on Github. The source for this site is all up there for your perusal.
---